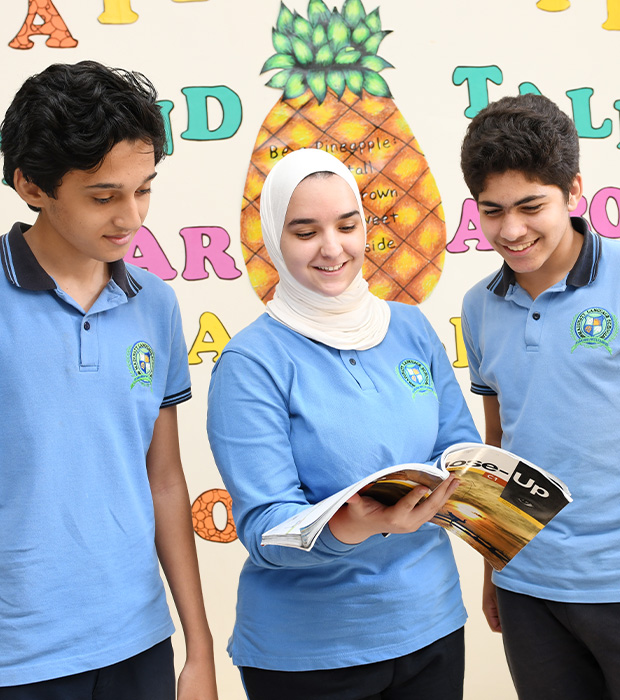 Secondary Sections
Welcome Message from the Head
I am really honored to be a member in MLS family as Head of Secondary stage.

At secondary stage, our team aims to create a positive learning environment that will promote the skills and capabilities of our students, and to provide them with the best educational experience.

Our team is dedicated to encouraging our students to use their full potential and to be lifelong learners for a brighter future. That is why we make sure our team members are in a process of continuous development which will allow them to enhance their skills and adopt the most up-to-date practices and approaches in our student's educational process.

MLS Secondary stage will provide our students with "21st century skills" needed to be strong, responsible, and effective members of their community and prepare them through programs and projects and extra-curricular activities to be a "Global Citizen" who knows that they are part of a worldwide community.

I look forward to collaborating with you during the 2022-2023 school year. I strongly
believe in the parent-school partnership. Together we can provide the best for our students.


Head Of Secondary Stage
Mostafa Hussien
Curriculum Overview
The new system of education according to the Egyptian Ministry of Education depends mainly on understanding and applying academic concepts rather than memorizing. This gets reflected along the educational process; the teaching methodologies focus on higher levels of student awareness and allow students to direct their efforts to apply and analyze the academic concepts in various curricula.

This is also evident in the ongoing assessments that measure the students' actual understanding rather than their memorization capacity of the learned concepts.

Moreover, to reach the best educational experience, MLS is keen to adopt interactive and rich learning experiences along with the skills and knowledge needed to embark on a bright future in the 21st culture with its evolving challenges through co -circular activities and extracurricular activities. Remarkable participation in international and local competitions and scoring high ranks adds flavour to the learning process. Career counseling is part and parcel of our educational journey where opportunities for internships are offered to enable students to further explore their future choices with a more realistic vision.


The Secondary Stage is a three-phase stage:
In Grade 10, students study a wide range of subjects including Arabic, two foreign languages, Math, Geography, History, Philosophy, Physics, Chemistry, Biology, Religion, Civics, and ICT.

In Grades 11 and 12, students study three compulsory subjects, namely Arabic, and two foreign languages, while the rest of their subjects depend on the individual's choices, with all students required to choose between Math or Science or Arts Sections.

A student who prefers the Arts Section will study History, Geography, Philosophy, and psychology.

Students who choose the Science Section will study Physics, Chemistry, Biology, and Geology.

Students who join the Math Section cover Physics, Chemistry, Statics and Dynamics, Algebra, Solid Geometry, as well as Differentiation and Integration.

Religion, Civics, Economics, and statistics are also compulsory subjects, but these are not included in a student's GPA.