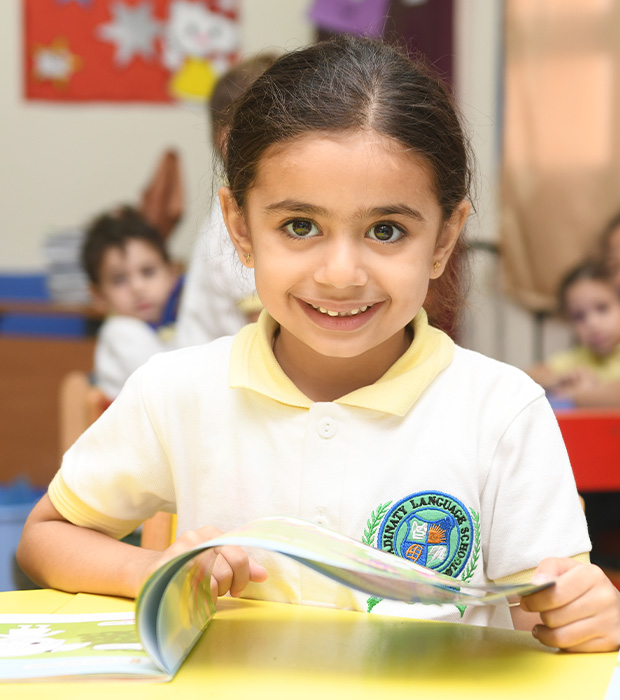 Kindergarten
Curriculum Overview
An exciting phase of education for all involved, KG begins at the age of three and continues for three years of early education. All children are curious discoverers and tremendously different. Our Early Years programme is designed to plunge into areas of exploration, cooperation, communication, and physical movement. Our subjects are enriched with activities targeting the development of a child's fine and motor skills.
An inspiring and happy start for a child is vital for a successful lifelong educational journey. Each student is unique in their own way, and we approach this diversity through well-planned, well-structured and flexible lessons. This does not mean we design different lesson plans for every single child, but it involves implementing a wide range of teaching techniques and integrating indoor and outdoor activities, as children learn best through play.
Our KG curriculum is based on the new curriculum provided by the Ministry of Education, which places greater emphasis on speaking skills, refining motor and gross skills, and unleashing children's imaginations.
Our core subjects are English, Mathematics, Arabic, Computing, Music, and PE. Special focus is given to teaching phonetics and enhancing speaking skills, while regular events to promote teamwork add special joy to this stage. Children enjoy dressing up for our Colour Days, Arts Day, Sports Day and many other occasions throughout the year. Monthly birthdays are also a treat shared by our parents.
Learning Outcomes
By the end of this stage children are expected to be able to:
Listen attentively and follow directions

Comprehend a simple conversation conducted in English

Understand stories and be able to retell and comment on them using printed pictures

Express themselves in simple sentences

Identify the sounds of every letter

Form a bank of vocabulary based on eye recognition

Write the upper and lower case of every letter

Count up to 50

Do simple mathematical operations; addition and subtraction

Display independence, self-confidence, sharing, and positive communication skills
What teachers do
The role of a KG teacher stretches beyond the scope of just being an educator. A talented KG teacher is required to:
Deliver hands-on lessons through creative play

Nurture children's social skills

Encourage students' participation and celebrate their achievements

Sustain an orderly, cozy and welcoming classroom

Collaborate with parents and understand that bringing the best out of a child is a shared responsibility