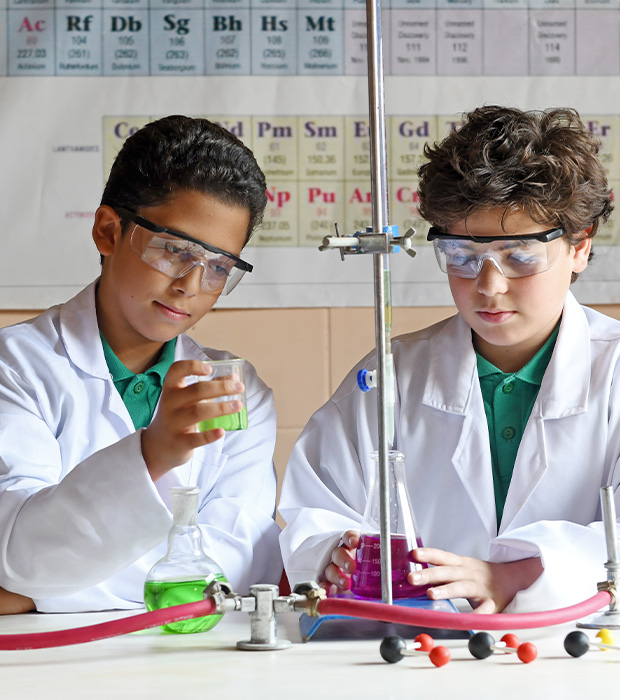 Preparatory Sections
Welcome Message from the Head
Dear Parents,

Learning is a shared responsibility between three essential parties; dedicated teachers, motivated students and ultimately collaborative parents forming a tripod with students on top. We are adept in curriculum selection and teacher's development to meet and uplift the students' level in many aspects not only academically but morally and emotionally.

Our keenness on bringing the best out of every student and creating room for students to participate in creating their learning objectives and celebrating their achievements results in a positive school culture where students feel at home and enjoy every educational opportunity.

Our precious students are the core of all our practices and their maturing and rounding up as well-developed individuals is our ultimate target

Sincerely,


Doaa Hussein
Head of Preparatory Stage
Curriculum Overview
The preparatory stage students are in an overly critical age phase in which a lot of understanding, patience and continuous support are needed.

The preparatory curriculum is national with GEMS approach that meets international standards. In our school we follow the Cross curricular Integration in education that can be found in STEM (Science, Technology, Engineering, Math) and moreover the recently coined STEAM (Science, Technology, Engineering, Arts and Math) learning. These approaches help students to see topics as interdependent and connected rather than individual and isolated subjects.

Students are expected to be fluent in foreign languages in addition to their own mother tongue. The differentiation between the three branches of General Science is now evident, while the Social Studies curriculum has become more elaborate. By the end of this stage, students sit ministerial exams that are set and marked externally. The importance of this stage lies in setting the foundation of the students' future choice for his area of specialization. .